One of my favorite parts of
painting custom shoes
is creating something from scratch that captures what makes my customer unique. Having your own, one-of-a-kind pair of shoes is a fun way to let your personality shine and incorporate different elements that are special to you! Here are some various ways you can do just that, and I hope this post gives you some ideas for custom hand painted shoes of your own.
Include your name or nickname.
An easy way to personalize your shoes is by including a name or nickname! I've seen this on shoes I've designed for kids' birthday parties, as well as on brides' shoes for their weddings.
Rock your favorite sports teams.
Sports fans love ordering custom shoes that showcase their devotion to their favorite teams. Do you attend lots of games each season? How fun would it be to literally dress head-to-toe for your team? I primarily paint Converse, Vans, and Toms—all of which are very comfortable shoes to wear to games!
Capture a sentimental location.
Is there a certain place in the world that is sentimental for you? Perhaps it's where your family vacations each year, where you got engaged, or where you got married. I've had customers send me photos of special places before, and they trust me to recreate it on shoes for them. That way, you'll always have a bit of that place with you.
Celebrate a special occasion.
Lately, I've received lots of custom orders for birthday gifts! If you have a loved one celebrating an upcoming birthday, a pair of hand painted shoes might be the perfect gift for them. I've also created themed shoes for birthday parties for kids, and they love to show them off for their friends. If you're unsure what to buy your loved ones for their birthdays, let's chat about creating a special pair of shoes!
Share your hobbies or interests.
The shoes I paint literally begin as a blank canvas for you to customize. That way, you can incorporate all the things you're passionate about! For example, some kids love trucks and absolutely light up when they open a pair of truck shoes. You may enjoy hiking, coffee, flowers, or crafting. We can create a pair of shoes for that! Custom shoes let the world see the things that you care about.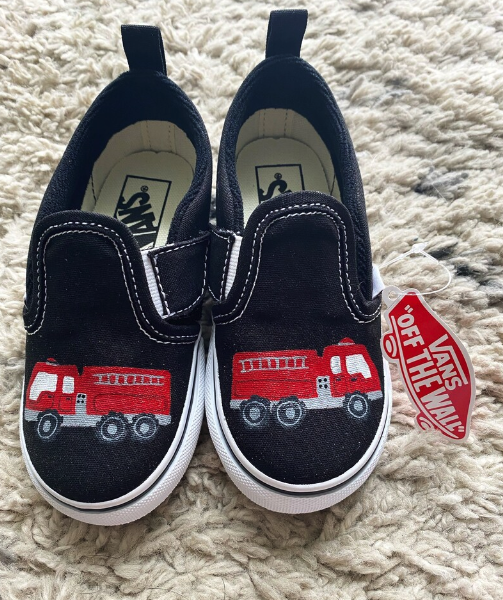 Represent your career.
Are you proud of the work that you do? Share it on your shoes! I've painted custom shoes for those in the military as well as their spouses. I've also created science-themed shoes perfect for you if you're in that field. Represent your career by wearing a custom pair of shoes, either at work or around your home. Your coworkers might be jealous!
Select your favorite colors or patterns.
Is your wardrobe mostly neutral? Colorful? Do you love tie-dye or leopard print? When we start from scratch with your shoes, that means you have the freedom to select your favorite colors or patterns. I want you to wear your shoes as much as possible, so let your personality shine here!