• Hand painted converse • handpainted shoes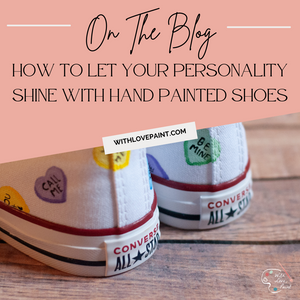 One of my favorite parts of painting custom shoes is creating something from scratch that captures what makes my customer unique. Having your own, one-of-a-kind pair of shoes is a fun way to let your personality shine and incorporate different elements that are special to you! Here are some various ways you can do just that, and I hope this post gives you some ideas for custom hand painted shoes of your own. Include your name or nickname. An easy way to personalize your shoes is by including a name or nickname! I've seen this on shoes I've designed for...
---
• costume ideas • halloween costume ideas • handpainted shoes
'Tis the season for pumpkin spiced everything, falling leaves, and spooky activities with family and friends. Halloween is just around the corner, and if you don't have your costume yet, no worries. I'm here to help you out! I hand paint custom shoes, and they make the perfect addition to your Halloween costume. Here are 10 different custom shoes to compliment your Halloween costume and impress your friends at your next party! 1. Cow Print Shoes If you're a Chick-fil-A fan, a cow costume may be your match. You can easily DIY a cow costume using fabric or order one...