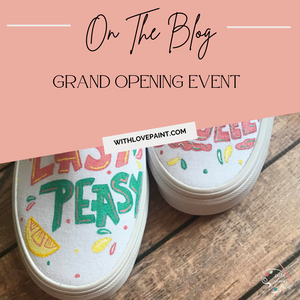 When: Saturday, September 16th + Sunday, September 17th  Time: 12pm - 6pm  Where: 1385 Cambridge St. Cambridge MA  What: A little slice of custom shoe heaven. This little retail store is mine for an entire month and I am so excited to share with you what I've been working on. From custom shoes to original canvas art, I am releasing so many new items for all of my local customers. I'll be popping up in the Inman Incubator starting September 15th and running all the way through the month until October 15th.  Each day, the first 10 customers will walk...
---
• Hand painted converse • handpainted shoes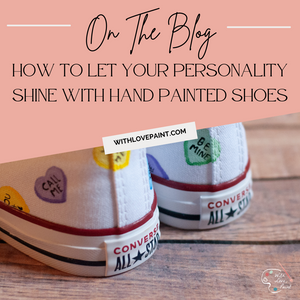 One of my favorite parts of painting custom shoes is creating something from scratch that captures what makes my customer unique. Having your own, one-of-a-kind pair of shoes is a fun way to let your personality shine and incorporate different elements that are special to you! Here are some various ways you can do just that, and I hope this post gives you some ideas for custom hand painted shoes of your own. Include your name or nickname. An easy way to personalize your shoes is by including a name or nickname! I've seen this on shoes I've designed for...
---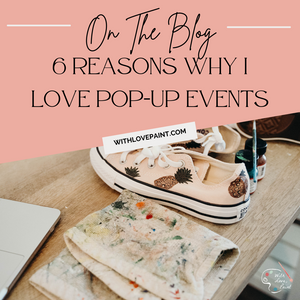 The summer season is always exciting and busy because it means one thing: pop-up events! If you've never been to a pop-up, they're a blast and I highly recommend checking one out. Typically these events are all about local makers coming together to sell their creations. You can usually expect music, good food, drinks, beautiful products, and lots of connections made within the local community. I look forward to pop-up season every year, and here are some reasons why I love these events so much! 1. Connecting with other small business owners. While the small business community is so vibrant...
---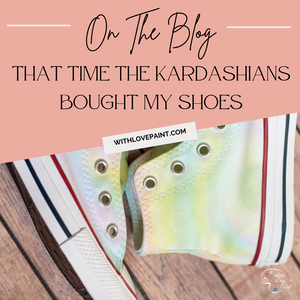 Did the title of this post get your attention? I still can't believe it myself, but it's true—the Kardashians are customers of With Love, Paint. I am honored and excited to share this story with you that completely took me by surprise this month! I thought it was a fake at first. I received a message on Etsy from "Khloe Kardashian's assistant" asking for pastel tie dye converse for Khloe's daughter for an event. I put that in quotes because to be honest, I thought it was fake! In my defense, I did have some experiences with scammers over the...
---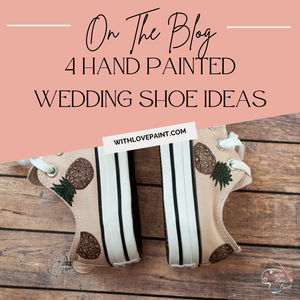 Are you or a loved one getting married soon? Are you looking for some untraditional wedding shoes that you can wear long after your wedding day? You're in the right place! I absolutely love when people reach out to me about painting custom wedding shoes for their big day. Sure, you can buy expensive shoes to wear, but there's something so special about wearing one-of-a-kind shoes that were created specifically for you. Many people that reach out have a story behind the idea they have for their shoes, and it's an honor to create something meaningful for them. Here are...