'Tis the season for pumpkin spiced everything, falling leaves, and spooky activities with family and friends. Halloween is just around the corner, and if you don't have your costume yet, no worries. I'm here to help you out! I hand paint custom shoes, and they make the perfect addition to your Halloween costume. Here are 10 different custom shoes to compliment your Halloween costume and impress your friends at your next party!
If you're a Chick-fil-A fan, a cow costume may be your match. You can easily DIY a cow costume using fabric or order one online. To truly embrace the cow look, throw on a pair of my cow print converse—available in both
low tops
and
high tops!
The best part is you can rock these year round.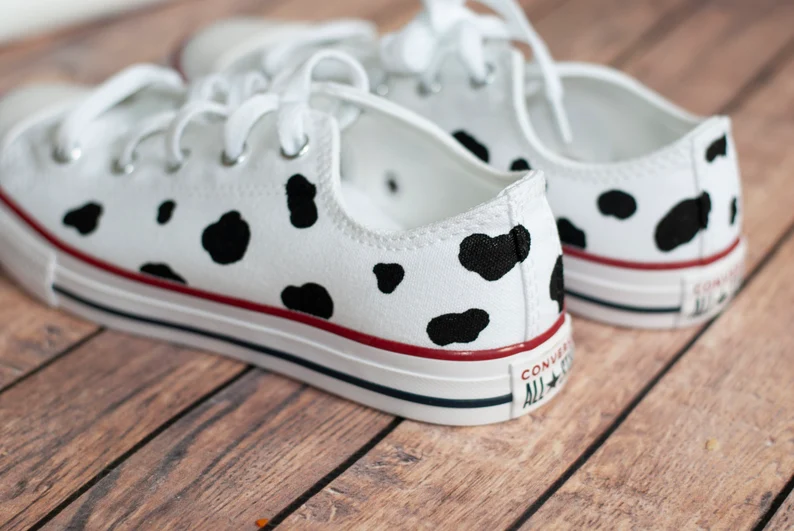 Let's be honest...who DIDN'T want to be an astronaut growing up?! Maybe my friends and I were just incredibly curious, but going to space sounded like the coolest job ever. It also makes a great Halloween costume! These space shoes will take your costume to the next level...or atmosphere.
Determined to spread some peace and love this month? A hippie costume is the fit for you! This is a super simple costume to DIY—all you need are some tie dye clothes, bell bottoms, and peace sign jewelry. These tie dye shoes are the perfect compliment to your attire, and they're fun to wear with any outfit—hippie related or not!
Whether you loved school or weren't the biggest fan of it growing up, a teacher costume is a smart option, because it requires minimal effort to DIY! You can wear virtually any outfit, a lanyard, a name tag, and throw on a pair of my school teacher hand painted Toms! These shoes are especially cute to wear to school if you are a teacher—and not just on October 31st!
Calling all science geeks! Want a fun costume that only requires a few pieces to look impressive? You can be a scientist! Scientist costumes can include a lab coat, gloves, goggles, and my periodic table hand painted Toms. These shoes are comfortable and will get you lots of compliments—especially if you work in a science field!
Sometimes, Halloween costumes call for keeping it simple, especially if you wait until the last minute to figure out what you're wearing (no judgement—we've all been there!). So, why not be a ghost? You can cut holes in a white piece of fabric or bedsheet, or simply wear all white and draw a face on your outfit. Just don't forget your spooky Halloween Converse featuring candy corn, ghosts, and pumpkins! These shoes are appropriate to wear all October long at a pumpkin patch, Halloween party, or as part of your costume, of course.
It's always a bones day if you're a skeleton for Halloween! There are tons of fun skeleton costumes online, including ones that glow in the dark. Here's the one thing they're all missing—skeleton shoes! How cute are these skeleton hand Vans making a heart?! These are the final addition for your skeleton costume!
Do you have a favorite football team? Show off your jersey of choice and go as a football player for Halloween! You can wear your favorite jersey, leggings, and grab a pair of my football Toms to compliment your outfit. Here's a secret: this costume also is perfect for Sunday night football games!
If you own a camera, going as a photographer for Halloween just makes sense! Not only do you have a simple costume to put together, but you'll be able to capture all your memories on your camera with family and friends. For this costume, the camera is a crucial piece, paired with my hand painted camera Converse. Snap those memories and make this the best Halloween yet!
Wearing heart-themed items isn't just limited to Valentine's Day, especially if you go as Cupid for Halloween! You can essentially wear any red outfit—but a bow and arrow with a heart and red wings are a bonus. To tie the whole costume together, throw on a pair of my hand painted heart shoes—available as
red with white heart Toms
and
white with red heart Vans!
I hope these custom shoes for your Halloween costume inspired you, and you found something that works for you this year! If you'd still like some more inspiration, you can shop the shoes on my website
here.
I also am open for custom inquiries, so if there's something specific you'd like, I invite you to
contact me here!